Decabot is a low-cost robotic platform designed for those interested in educational robotics to build, customize and adapt their own robots at home, in their school, college or community.
A Decabot consists of a laser-cut chassis (MDF, acrylic, PVC, etc.) measuring exactly 10 centimeters in width, height and length (around 3,9 inches). It is a cubebot! Its versatile design allows the user to work with a diversity of different sensors, shields, motors and actuators, with little or no adaptation. The robot is designed to work with the Arduino UNO platform, but it can accept different controller plates in UNO format (including ESP plates, such as Weimos).
The patented Decabot chassis was developed at the Universidade de Fortaleza, together with Genio Azul technological education, aimed to be a easy to build, easy to acquire, fun to play platform. The main requirements to the project was:
Materials as cheap and accessible as possible: With a body made of laser cut MDF (easily find in craft makers), wheels made with plumbing rubber band, masks made with EVA, the entire project can be downloaded by makers, teachers and kids to be cutted and assembled with glue!
Electronics to be as accessible as possible: All decisions about wich component must be compatible with Decabot started with one question: It is a worldwide acessible component? Some choices could be questined (like using not so precise step motors!) but the main goal here is to be sure that a kid in Brazil, Spain, USA or South Africa could build a Decabot with few effort.
Personalisation: One component who are basal to the research made with Decabot was the importance of emotions in STEM education. Emotion and reason are not opposite; instead they merge to build a cognitive flow who penetrate deeper in the kids mind. Decabots were designed to be emotional, artistic and personal.
Versatility: Don't you have step motors? OK, can use DC motos! Doesn't have an Arduino? Yeap, use your Wemos! Want to use a different motor shield? Go ahead! Decabot chassis is prepared to support lots of add-ons. You can build arms and head with servos, add PIR sensors or any gas sensor on the top. Can install line following sensors on the bottom. And if something is not ready, you can always drill a hole to hold your idea!
No wires (or at least the minimum of it): Wiring is problematic with newcomers in electronics. They have bad contacts, they fall apart in backpacks, and they make the project ugly! So the Decabot shield was projected to have direct connection between components as much as it's possible! In a Decabot standard robot, there's no wires needed, except for those ones who already are attached in motors and batteries support.
Decabot is the first robot compatible with the tangible programming language Code Domino (www.codedomino.org) being accessible to children and beginners in programming. However its ease of use allows learner and experienced users to program it directly in the Arduino IDE interface, through the C language.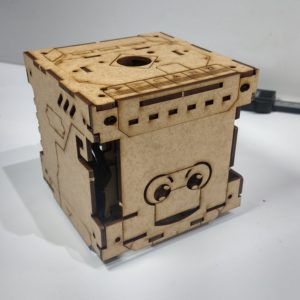 The base chassis of the project as well as the basic firmware compatible with the Code Domino programming language are free to replicate. Source files will be available in the Downloads section.
Why Decabot?